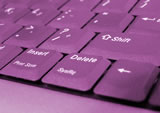 The MDM Practice Management System
The MDM system enables physicians to manage their practice more efficiently, and to get reimbursed for claims faster and more effectively.
We are an On-Site automated claims management service which includes hardware and software (provided at no charge) for scheduling, registration, billing, and collections, accounts receivable management, and on-demand management reporting.
Our system is compliant with all current HIPAA electronic transaction standards. In addition, MDM is committed to remaining compliant as new standards become published.

A scheduling system that provides immediate access to patient information and demographics.

"On-going" review and training of your practice staff.

Custom designed "practice" superbills and charge sheets to efficiently record procedure and diagnosis codes.

Expert review of all coding and modifiers prior to claim submission by our on-site staff.

Constantly updated system edits to identify and correct problem claims before they are filed.

"Corrected" claims electronically submitted directly to insurers.

Full service collections and accounts receivable management, which applies claim payments, identifies rejected claims, and makes corrections, for re-submission.

Provides a comprehensive reporting system that allows for the retrieval of information in real time, in order to efficiently report and manage the practice.