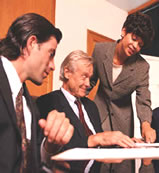 Founded and operated by senior healthcare providers and executives, MDM combines the experience and expertise of seasoned insurance industry specialists with cutting edge technology to provide revenue management solutions for medical professionals.
Our professionals have extensive experience in clinical practice, managed care operations, hospital claims processing and revenue recovery.
Meet the Leadership Team:
Frank R. DiPanfilo Vice President, Operations
Mr. DiPanfilo's business management experience has spanned nearly 40 years. A graduate of Bentley College, he was employed by Blue Cross and Blue Shield of Massachusetts for 14 years as Investment and Banking Relations Manager and Accounting Control Manager. DiPanfilo's career also focused on the successful turnaround of business operations for revenue-problematic companies.
» The evolution of the MDM Management System was based on this experience and knowledge.
---
About Data Distributors, Inc. (Parent Company and Clearinghouse)
Founded in 1974, DDI provides a wide variety of MIS services including remote computing, outsourcing, media conversions, consulting, and other I/S support. For over 40 years, DDI has been dedicated to creating and maintaining satisfied customers.
The DDI corporate headquarters are in Framingham, MA. Additionally, the company operates service centers in Framingham and Pearl River NY. Both centers contain IBM mainframes, UNIX, and Windows Servers, as well as a variety of communications and network resources with multi-vendor connectivity.